Recently we had the distinct pleasure of meeting Jim Gilbert, the publisher of the online publication Curating Los Angeles (CLA).  He and his lovely wife, Susan, visited our studio/workshop to see how our products are created. Jim became familiar with our products while remodeling his own home and searching for unique cabinet hardware for a guest bath.  He ultimately purchased two of the bronze moth pulls  from our Animal collection and the rest, as they say, is history.
What follows are highlights of our conversation.  You can read the entire interview on their website www.curatingla.com.

Late last year my wife and I undertook a major remodel of our kitchen and master bath. While we were at it, we also decided to upgrade a few other parts of the house, such as our guest bathroom. One goal for that room was to find unique pulls for a wall-mounted cabinet that would make it much easier to open its doors.
While browsing in a local decorative hardware store, we found a line of animal themed pulls that fit the bill. After looking at display samples and thumbing through a catalog, we decided to purchase two beautiful bronze moths. You can see one in the following photo.

While I was very excited to add these distinctive pulls to our bathroom, I was equally thrilled to learn that they were designed and hand crafted in Los Angeles by Martin Pierce Hardware. I immediately wanted to meet the people behind this business, hear their story and learn how they produce their products. So I reached out and set up an appointment with Martin and Anne Pierce, the owners of the business.
What follows is an edited transcript of my in person conversation with Martin and Anne that took place on July 2, 2015. Since my wife joined me for this interview, we both asked the questions. To streamline the conversation in written form, I have consolidated our questions and present them below under the acronym CLA (i.e. Curating Los Angeles).
————–
CLA: What brought you to Los Angeles?
ANNE: We're both from Worcester England and we met in London. Martin was trained as a woodcarver and a sculpture, and that was where it all began. We left England in 1980 and came directly to LA. We were actually heading to San Francisco but it didn't work out. By the time we landed and spent some money there wasn't any left to get to San Francisco.
CLA: Was your intention to start this business when you arrived here?
ANNE: I don't know what we were really planning.
MARTIN: We were really here on a mission just to check it out. I brought my carving tools with me. We just started to make furniture initially for people in Beverly Hills – cabinets, chairs. We got some pieces in the Pacific Design Center within just a few weeks.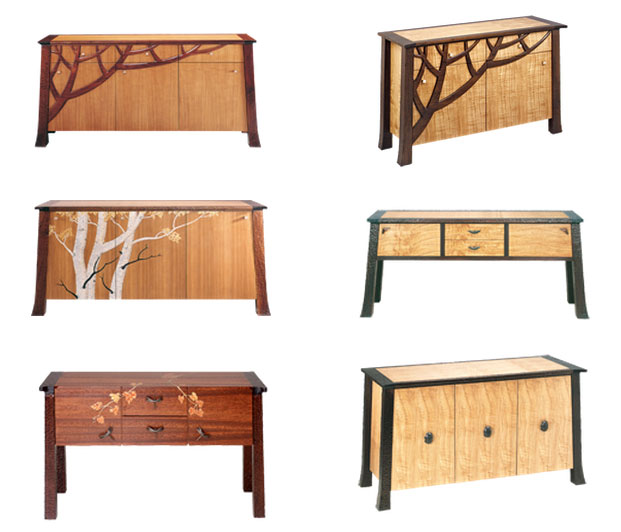 CLA: How do you two work together?
ANNE: We didn't use to. My background is law, but I never practiced here. I really wanted out. I eventually took over the business side of things. It became obvious it would be better if I became involved.
CLA: Were you always located in this building?
MARTIN: We originally had a space in downtown LA but then the Northridge earthquake happened. The building cracked down the middle because it was brick.
Anne was in real estate at that time. We were able to buy this place. It made sense. It's a stucco building and it's not going to fall down. So we've been in this space for about 20 years.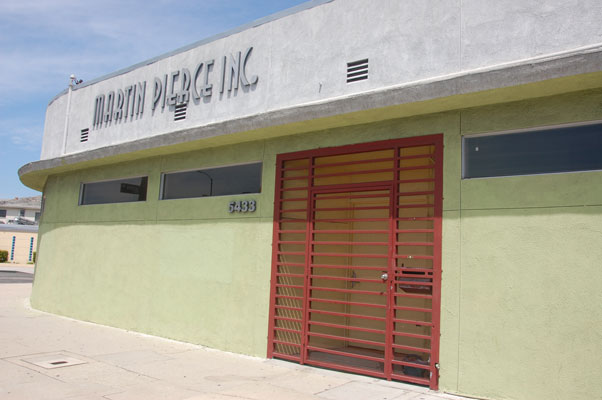 CLA: How did you get from furniture to cabinet hardware?
MARTIN: Because I made a lot of case goods I needed the correct pulls for the drawers and doors. I couldn't find anything I liked so I made my own. I created the design, carved them in wood and found a foundry that would make them for us. So we sold the furniture with our pulls on them. It just evolved from there.
ANNE: All the pulls originally came from a particular piece of furniture. The moth pulls that you own came from a sideboard.
Eventually we felt that if we're going to make cabinet pulls why not make door hardware too. It was a big leap because it's quite different from non-functional pulls. They have moving parts and locks.
CLA: Do you seek out relationships with architects?
ANNE: Absolutely. We sometimes produce a custom piece and then use that design as inspiration for a production line. Pieces evolve over time.
Thank you, Jim, for the lovely article.
Designers can visit our showroom located at:
5433 W. Washington Blvd.
Los Angeles CA  90016
323 939 5929
You can view the complete Animal collection, as well as our entire selection of architectural hardware at www.martinpierce.com.